80053: Flight Deck w/Container
APCO's Flight Deck resembles other cockpits, but has some unique features which makes it more user friendly and convenient.
The flight deck has been specially redesigned to fit the Blade harness as well as undergoing a complete overhaul. It is designed to be used when flying in pod harness , but also will accept zipped on ballast bag 9L at the bottom or can be integrated with new zipped on emergency parachute container (instead of ballast bag)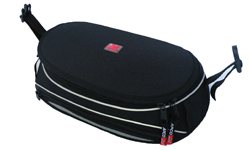 As all other cockpits, top part is designed to hold flying instruments. The floor is velcroed to keep the instruments in place and the floor angle is adjustable for optimal viewing possibilities. The instruments are covered with a padded flap.
Of course there is no compromise on quality and materials. Attention to detail is exceptional as always.
Left – flight deck with water ballast bladder. Center – flight deck only. Right – flight deck with integrated emergency parachute in front container
Features:
Bottom compartment ballast bag (Code 80052 ordered separately) – compatible also for APCO ballast inner bag holding up to 9L
Bottom compartment emergency parachute Front container (Code 80054 ordered separately)
Adjustable viewing angle for instruments
Well Padded instrument compartment
Detachable bottom compartment for Ballast bag
Dry Storage pocket with front entry
Durable, heavy duty cloth – well padded
Careful design and well thought out details, make the Flight Deck an exceptionally superior product which will be enjoyed by pilots for a long time.
Code: 80053 – Flight Deck Top Part
Code: 80054 – Emergency parachute Front container
Products you might like...