Chances are, you have seen these remarkable flying machines flying around somewhere, and have wanted to find out what all the buzz is all about. This sport is growing by leaps and bounds, and the Miniplane is by far the lightest, easiest and most reliable paramotor available today.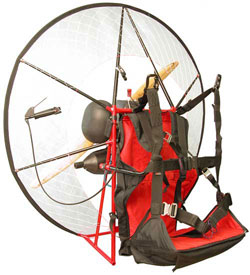 The philosophy of a reliable mini-motor, combined with optimizing the resonance of the exhaust provides the pilot:
Light weight

Less vibration

Easier to start

Less fuel; less to carry

Less weight means a lighter frame

Less weight in flight means a smaller, easier to inflate Paraglider

Less weight means running faster, more erect, and under control – not struggling with a heavy load
The increase in performance of modern paragliders makes it possible to fly with almost one-half the power of a few years ago.
A little two-stroke engine, built with modern technology, can offer more than enough reliable power and much less weight. This makes the critical take-off run easier and safer.
Miniplane PSF
In 1996 Per il Volo invented and produced the first harness attachment system to feature high hook-in points with low J-bar distance bars, called the PSF system.It is today appreciated as the industry standard and most often copied by other manufacturers world wide.Available in either the M (115cm prop) or L (125cm prop). An XL (135cm prop) is available for competition use.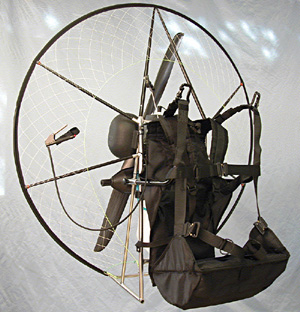 Miniplane ABM
The new 2007 Miniplane frame allows the use of the proven PSF system or as an option the new revolutionary ABM system with pivot arms using a mid attachment point, in order to keep an excellent degree of stability, and at the same time allows for "active" pilot weight shift. Experts that have test flown this system agree that it allows great weight shift ability without the instability found on previous systems by other manufacturers. Read a Review by FootFlyer and Backyard Flight.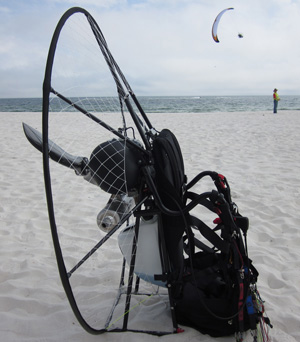 Miniplane Top 80 Paramotor Specifications:
115

125

propeller

cm

2 blades 115

2 blades 125

empty weight

Kg

18,5kg (43 lbs) harness included

engine

carburetor

Diaphragm Walbro, or basin Dell'Orto

dimensions

cm

cm

125 x 125 x 75

135 x 135 x 75

reducible to h 75 x 40 x 40

reducible to h 80 x 40 x 40

static thrust

Kg

47

52

noise level
dB
NA

climb rate **

m/s

2,2

2,5

consumption in level flight **

l / h

2

<   2

max. pilot weight

Kg

90

110

frame

aluminum ergal and fiberglass

fuel capacity

l

11,5

11,5

Range

3 Hours

more than 4 hours

** with 75 kg pilot and performance glider
Products you might like...